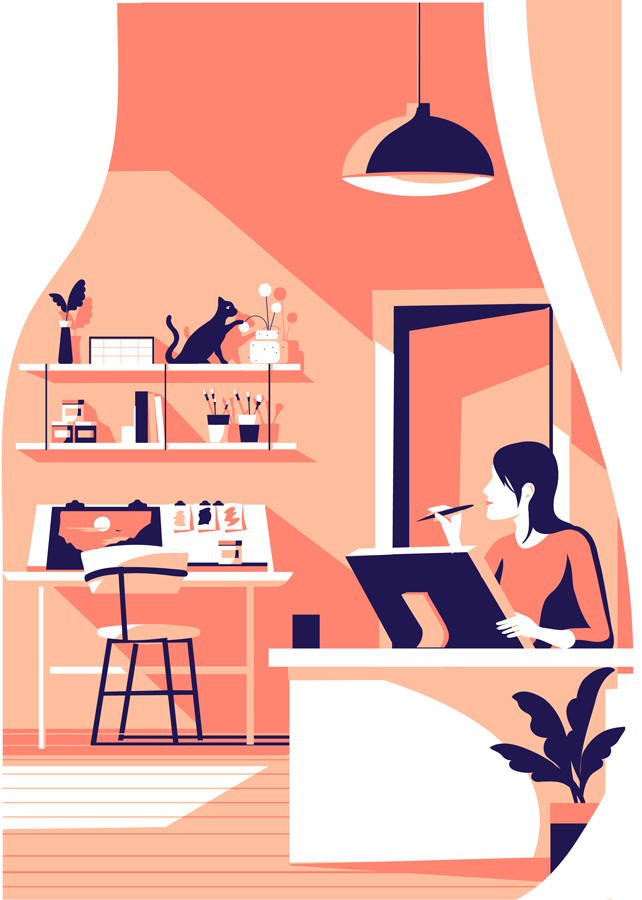 Illustrator agent since 1988
Illustrator's agent since 1988, Agence Marie Bastille offers a wide range of creative resources, freelancers, illustrators, graphic artists, animators, motion designers, evolving in the world of communication. We take care of all kinds of projects, from conception to execution, for billboards, publishing, direct marketing, web, print, animation… Proud of its experience, Marie Bastille and her team have been accompanying brands from all over the world in all sectors for more than 30 years. Among our most prestigious clients we can mention : Louis Vuitton, Chanel, Guerlain, Cartier, Lenôtre, L'Oréal, La Maison du Chocolat, Adobe, Apple, FFT, Zurich Airport, La Poste, TF1 and many others
We work with the most prestigious communication agencies like Havas, Publicis, BETC, TBWA,
The images presented on this site are a showcase, they are here as examples of the work of their authors and are not free of rights. All our authors work on commission and are remunerated in fees and royalties, according to the specifications and the uses that will be made of their work. They are all registered with the Maison des artistes, Agessa or RCS. For more information, you can consult our General Sales Conditions
Illustrators' agent based in Paris
The Agency was born near Bastille in Paris and has been working for many years with actors from all over the world. Bilingual, we are able to work in English or French no matter the time slot. Reactive, we make sure that our illustrators respect briefs and deadlines and always deliver on time.
An agency with a large panel of illustrators
Our team is composed of internationally renowned talents: illustrators, origami artists, animators, graphic designers, calligraphers, retouchers, integrators… Entrust us with your project, we will be happy to advise you, according to your needs and we will propose you adapted quotes. If you don't find what you are looking for, don't hesitate to contact us and we will try to find you the rare pearl, we are full of resources and we know our authors well and what they are capable of!
Marie Bastille team can also manage film realization, from the creation of the illustrations up to the final animation delivery, this is possible thanks to our partner studios. DOZE Studio, Un Oeil Sur Tout which are 2 professional studios, offering different technical solution for creation: Video, 2D / 3D Animations, Motion Design, Story Telling, Draw My Life, Graphic Recording, Advertising Films, Bilboards, Events etc… Whether you plan to use it on the web, on digital board, TV or cinema, we can manage all your projects: illustrations, animation, music, voice-over, editing, ARPP accreditation, deliveries to media, etc.
What is an illustrator's agent?
An illustrator's agent is a person who represents professional illustrators to potential clients. They work to facilitate sales and contracts for the illustrators they represent, and may also help manage the administrative aspects of their work, such as billing and copyright management. He is a precious help to the artists he represents in managing their portfolio and their artistic career.
An illustrator agent can represent a wide range of illustrators, from emerging to established illustrators, and can work in a variety of industries, such as publishing, advertising, institutional communication and digital media.
To become an illustrator agent, it is generally necessary to have previous work experience in the illustration industry, an understanding of current trends in the illustration market, and communication and negotiation skills.
Illustrator agents play an important role in an illustrator's career by allowing them to focus on their art while managing the business aspects of their work. They can also help illustrators develop their careers by bringing them work opportunities and advising them on the most effective marketing strategies. He is a precious help to the artists he represents in managing their portfolio and their artistic career.
How to find an agent when you are an illustrator
We are constantly looking for new talents to represent. If you are an illustrator looking for an agent, please fill out this email form and we will try to respond as soon as possible…